Breast Lift (Mastopexy) Plastic Surgery in New York & New Jersey
Mastopexy (Breast Lift) One side $6,200
Mastopexy Bilateral $8,200
Over time, most women's' breasts change in shape and begin to sag. The sagging can be made worse by weight shifts and pregnancy. Many women have issues with breast sagging all their lives without any weight or pregnancy issues at all.
Mastopexy, or Breast-Lift, is performed to lift the breast back into a normal position. The breasts stay about the same size, though they can get slightly smaller. No implants are used in these cases, but a mastopexy can be combined with implants. A breast lift can also be combined with fat transfer to give more fill to the lifted breast.
There are many types of mastopexy, but they all produce a scar on the breast, so it is vital that patients understand the scar before surgery. The scar can be just around the nipple/areola, or it can be a lollipop shape around the areola and down. Some cases require an anchor-type scar with the lollipop extending under each breast.
RECOVERY FROM Mastopexy
After a breast lift, the incisions are stitched, taped and bandaged. A surgical bra is typically put over the bandages to minimize swelling and support the breasts. For a few days post-surgery, most patients feel tired and sore, but most return to work within a week. Tape may be applied to the breast at the time of surgery and remain in place for three weeks. The tape can get wet in the shower. Stitches dissolve on their own; postoperative pain, swelling, and sensitivity diminish during the first few weeks. Scars begin to fade in a few months. Silicone sheeting scar therapy is recommended for 1 year.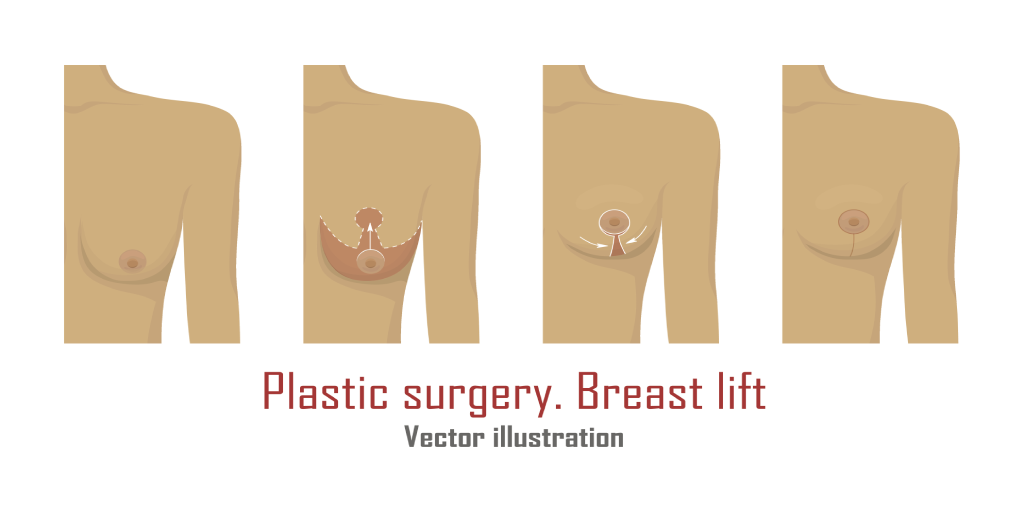 RISKS OF Mastopexy
In addition to the risks associated with surgery and anesthesia, those related to augmentation mammaplasty using implants include the following:
A temporary or permanent change in nipple/breast sensation

Damage to the blood supply of the nipple causing nipple death

Irregularities in breast contour/shape which may require additional surgery.

Asymmetry of the breasts. This is usually from an original asymmetry with the breast anatomy prior to surgery which could not be completely corrected.

Scarring – There is always a scar, so patients must understand the risks pre-operatively. Most scars are totally acceptable.
*All pricing includes pre-op/post-op appointments, surgeons fee, and facility/anesthesia fees.
What is a Breast Lift?
A breast lift is a procedure is done to lift the breast back into a normal position after a breast's shape may change or begin to sag. The breasts usually remain the same size during this procedure but can be done along with implants. A breast lift may also be combined with a fat transfer to help give more fill to a lifted breast.
Who is an ideal candidate for a Breast Lift?
An ideal candidate for a breast lift can be a patient who's breast shape may have changed due to weight fluctuations, pregnancy, or anyone who has dealt with their breast sagging throughout their lives. They can also be done for anyone who hasn't dealt with similar experiences and are simply looking to enhance the look of their breasts.
Are there any risks to getting a Breast Lift?
As with any surgery there is always a chance for risk, our team at Affordable Plastic Surgery do our best to inform our patients on any risks that can occur during a procedure. Some risks that could occur from a breast lift is scarring, temporary or permamnent changes in breast and niple sensation, irregularities in breast shape, and possible damage to blood supply to the nipple, that could lead to nipple death.
How long is the recovery period?
The recovery period for a breast lift is generally about a week or so depending on each patient. Patients are made to wear a surgical bra that helps to reduce swelling and support the breasts. Patients may feel sore or exhausted post surgery, but many are able to return to work within a week. Tape can be applied to the breasts and will remain in place for about three weeks, while the stitches dissolve on their own. Pain, swelling, and sensitivity should subside during the first few weeks after surgery.