Liposuction Surgery in New York & New Jersey
Starting at $3,600*
(pricing includes post-surgical garment and initial Lymphatic Massage)
Liposuction uses a thin, hollow tube called a cannula to remove localized areas of body fat. The cannula is inserted through small incisions (¼ inch) and then moved back and forth to loosen excess fat, which is suctioned out using a vacuum. Treated areas look slimmer and more contoured, and in better overall proportion to the rest of the body. However, liposuction is not a method for losing weight and is not effective in eliminating cellulite or tightening loose and sagging skin.
Remember that the fat suctioned can be moved to other areas, like your breasts or buttocks (that's a Brazilian Butt Lift – BBL for short).
CANDIDATES FOR LIPOSUCTION
The ideal candidate for liposuction is in good overall health but has one or more areas of fat that do not respond to diet or exercise. Areas that are often treated with liposuction include the thighs, abdomen, arms, back, hips, buttocks, and chest. Liposuction can be performed alone or in conjunction with other cosmetic procedures, such as abdominoplasty (tummy tuck). Liposuction candidates should not be obese and the best way to tell if your weight is acceptable for liposuction is to calculate your Body Mass Index (BMI). Go to an online BMI calculator like https://www.nhlbi.nih.gov/health/educational/lose_wt/BMI/bmicalc.htm  and see if your BMI is reasonable. It should be under 30, though in some cases 32 is acceptable.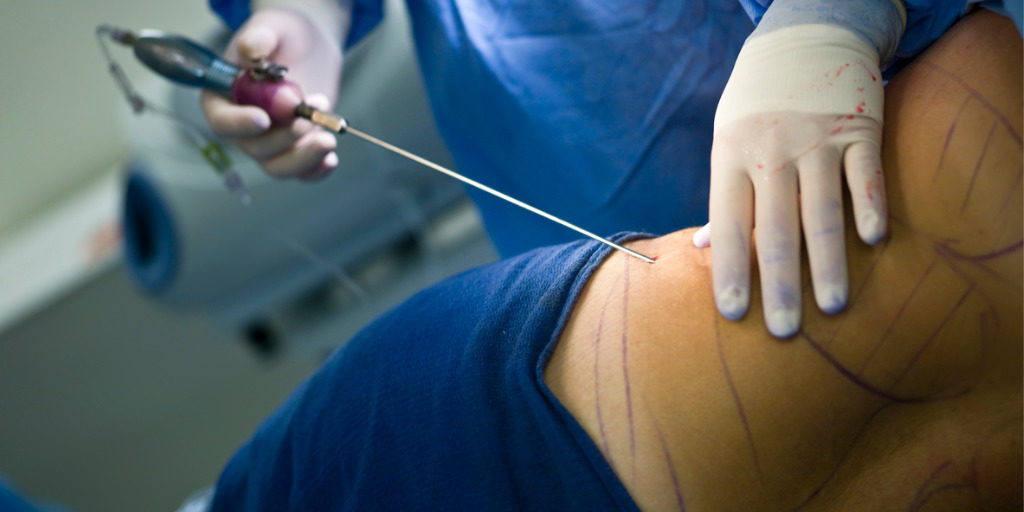 THE LIPOSUCTION PROCEDURE
One of the most common liposuction techniques is tumescent liposuction, which may get an assist from a power liposuction handpiece. It is performed on an outpatient basis at our accredited surgical facility, so you come in and go home the same day.
During tumescent liposuction, a solution of saline (salt water), lidocaine (an anesthetic to numb the area) and epinephrine (a blood-vessel tightener) is injected into the area being treated. The solution causes the targeted tissue swell and becomes firm, which makes it easier to remove via the cannula. The advantages to this technique are that the anesthetic is built in, decreasing pain, and blood loss is minimized because the epinephrine constricts blood vessels.
RECOVERY FROM LIPOSUCTION
After liposuction, patients experience swelling, bruising and discomfort in the treated area. Compression garments or elastic bandages are typically worn to help reduce these symptoms as the area heals. If you are having multiple areas suctioned, the recovery is no joke. You will be sore and bruised and will feel WORSE the two days after the procedure, but then you'll start to feel much better.  Remember that even if you are sore, you need to move around after the surgery to prevent complications like blood clots. They are rare but they can be deadly. Patients can return to work and other regular activities as soon as they feel comfortable, which is usually about one week. Exercise and other strenuous activities should be avoided for a few weeks.
RISKS OF LIPOSUCTION
Superficial risks associated with liposuction include the following:
Loose or rippled skin

Worsening of cellulite

Asymmetry – uneven areas

Contour irregularities – dimples and bumps

Pigmentation irregularities

Seromas – a collection of water/fluid in the space where the fat was

Surgery to remove excess skin
As with all operations, liposuction carries risks like an infection (very rare), bleeding (also rare), and blood clots to the leg and lung (rare too – but can be fatal). So be sure to move around the house after surgery to keep your legs from clotting. Also be sure to give your entire medical history including clotting risks like prior clots, miscarriages, prior cancer, and birth control pill use.
RESULTS OF LIPOSUCTION
Results of the liposuction procedure will not be apparent until swelling and bruising subside, which usually takes six weeks. Swelling should completely gone in 6 months. Scarring is minimal because the incisions used for the cannula are so small.
The results of liposuction are long-lasting unless you gain weight. If you do gain weight, it will tend to go to areas that were not liposuctioned, BUT it will also go to treated areas over time. If you need repeat liposuction or any other treatment because of weight gain or any other reason, there will be additional fees, so follow post-operative instructions carefully.
*All pricing includes pre-op/post-op appointments, surgeons fee, and facility/anesthesia fees.
What is Liposuction?
Liposuction is when a plastic surgeon will use a thin and hollow tube called a cannula to remove fat from areas of the body. The cannula is directed through small incisions to remove excess fat, which is then vacuumed out. The procedure is used to make areas that receive treatment more slim and contoured and appear proportionate to the rest of the body. However, we advise all patients considering to get liposuction that it is not a method for losing weight.
Am I a good candidate for Liposuction?
An ideal candidate for liposuction is in overall good health, but is noticed that there are areas of the body that are still having difficulty losing weight or fat with regular exercise and dieting. Candidates should have an ideal BMI measurement of 30 to 32 and should check with their physician or they can check online to see if they fall within the parameters.
Are there any risks to getting Liposuction?
There is always a risk when it comes to surgery, we do our best to inform our patients of the risks that they could experience when they undergo any procedure. We do our best to minimize any risk during your procedure, but we want patients to be aware that risks that you could have from liposuction is loose or rippled skin, worsening of cellulite, asymmetry, blood clots, and possible infection although the latter are very rare.
How long is the recovery period?
Patients should be prepared to feel some pain following liposuction, we warn our patients that the following two days after liposuction are usually the worst, and that you will feel soreness and there will be bruising, especially if you had more than one area done for liposuction. We advise patients to return to work or other regular activities as soon as they feel comfortable, which for most tends to be a week. Although we recommend that patients avoid exercise and other strenuous activity for a few weeks at least.